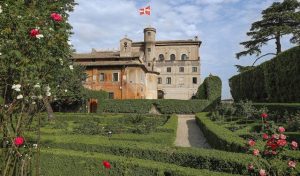 The Embassy of the Order to the Italian Republic has its seat inside the Magistral Villa, on the Aventine Hill in Rome.
The Embassy is composed by four diplomats:
– Ambassador Stefano Ronca
– Minister Counsellor Enrico Floridi
– Counsellor Moroello Diaz della Vittoria Pallavicini
– Counsellor Ugo Brachetti Peretti
– Dott.ssa Marina Favale
Every State celebrates the "National Day". For the Sovereign Order of Malta this event is on 24 June, for the Feast of St. John the Baptist, Patron of the Order of Malta.
The Embassy celebrates St. John the Baptist with a reception, in the gardens of the Magistral Villa, where all the Ambassadors accredited to the Italian Republica are invited, together with Italian institutions and authorities.
List of the Representatives/Ambassadors of the Order of Malta to the Italian Republic from 1956 to the present day:
H.E. Giulio di Lorenzo Badia (1996 – 2015)
H.E. Serge de Hubsch de Grossthak (1979 – 1996)
H.E. Johannes von Schwarzenberg (1969 – 1979)
H.E. Gabriele Apor de Altorja (1956 – 1969)
Foreign Diplomatic Missions in Italy: https://www.esteri.it/it/ministero/rappresentanze-straniere/